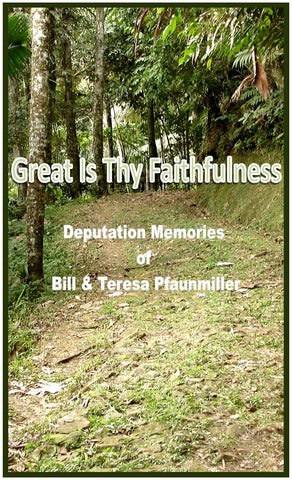 Great is Thy Faithfulness: Deputation Memories of Bill and Teresa Pfaunmiller
From the introduction:
"Deputation is an experience that only missionaries every truly understand. We praise the Lord for each interested pastor and church member who has honestly tried to comprehend this incomprehensible and unpredictable adventure. As we traveled from church to church and shared our heart with these warmhearted brethren, we have repeatedly been told, "You should write these things down so they can be shared with more people. Our churches need to understand what missions and deputation are really like." After hearing this refrain for several years we began to keep a computer scrapbook of deputation to allow others to live the odyssey that is the entry point into mission work. Our desire is that you might be challenged to pray more fervently for missions and missionaries."
Bill and Teresa Pfaunmiller have been missionaries to Puerto Rico since 1994.
---
We Also Recommend