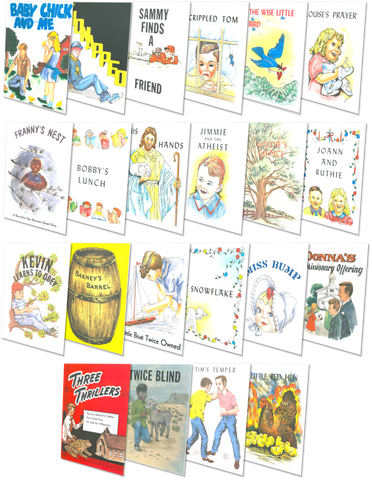 Living Stories Set of 22 Books
RECEIVE A 15% DISCOUNT
WHEN YOU BUY THE ENTIRE SET OF LIVING STORIES (22 BOOKS)
Baby Chick - And Me!

Barney's Barrel

Bobby's Lunch
Crippled Tom
Donna's Missionary Offering
Franny's Nest

Goldie's Choice

His Hands

Jimmie And The Atheist
JoAnn and Ruthie
Kevin Learns to Obey
Kidnapped
Little Boat Twice Owned
Little Red Hen
Louise's Prayer
Miss Bump
Sammy Finds a Friend
Snowflake
The Wise Little Bird
Three Thrillers (Flannelgraph)
Tim's Temper
Twice Blind
Complete, Illustrated Gospel Storybooks **4 titles are reprints of originals** 
Size: 8.5 x11" stapled paper booklet format.
~Full Instructions for Teacher's Use Included in the beginning of each book~
For use in teaching Children at Home, Sunday School,  Children's Church, Youth Groups,  Vacation Bible School, Child Evangelism Classes, Hospital Visitation, and Christian Schools. A wonderful gift that keeps on giving to children!
---
We Also Recommend