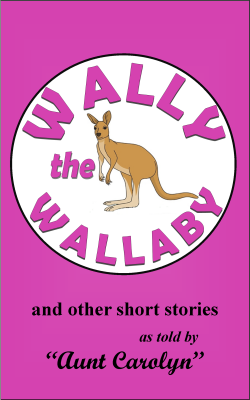 Wally the Wallaby
As Wally the Wallaby was lounging in the Australian outback one night, a python suddenly attacked.  A nearby Bushman happened to hear Wally's desperate cries....
CONTENTS
Wally the Wallaby ( a true story! )
Mortimer (a true pig's tale)
For Truth's Sake (a true story: Mary Bunyan)
Twelve Going On Twenty (a true story: William Bradford)
No Tricks ( a true story )
Summer Fun
The Lord's Day
Tattle Tale
The Silver Bracelet
39 pages. Paperback, stapled cardstock. 
GREAT FOR END OF THE DAY READING AT SCHOOL, HOME USE AT BEDTIME OR STORYTIME, SUNDAY SCHOOL, CHILDREN'S CHURCH AND DAY CAMPS!