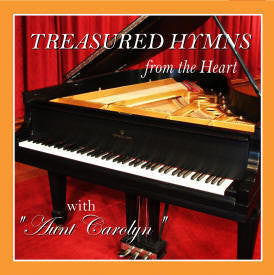 Treasured Hymns from the Heart
After a complete restoration, the 100-year old piano continues to pour out old hymns of the Faith with Aunt Carolyn at its keys. She took lessons on this very piano as a girl! Read the entire story inside the cover.
62 minutes of quiet hymns to listen to or sing along with as you work, rest, or drive.
Track Listing:
1.In the Garden & Sweet Hour of Prayer
2. Day By Day & No One Ever Cared For Me
3. Blessed Calvary & Why?
4. There Is A Fountain & I Know A Fount
5. He Lifted Me & All That Thrills My Soul
6. Wonderful, Wonderful Jesus & What A Friend
7. Satisfied & Jesus Is the Sweetest Name
8. My Faith Looks Up To Thee & Only Believe
9. The Haven of Rest
10. God Will Take Care of You
11. Beyond the Sunset & My Savior First of All
12. Immanuel's Land & No Night There
13. Jesus Is All the World to Me & All for Jesus
14. Children's Medley: Tell Me the Old, Old Story; Jesus Loves the Little Children; Jesus Loves Even Me; Jesus Loves Me
15. Take Up Thy Cross & Have Thine Own Way
16. Blessed Redeemer & Wounded For Me
17. Softly and Tenderly & Just As I Am
---
We Also Recommend