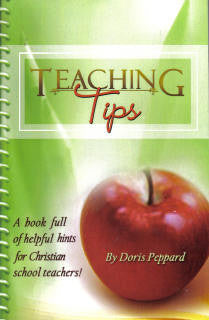 Teaching Tips
A book full of helpful hints for Christian school teachers!
By Doris Peppard
A refreshing approach to teachers of all experience levels! Over 70 topics. Includes note to teachers, subjects to be taught, classroom procedures, school "supply list" for teachers and much more!
From the author: "When you love the Lord and have a desire to teach other people's children, when you have taken training to prepare yourself for teaching, when you have set up your classroom, and when you are mentally, physically, and prayerfully ready to teach your class, you become a Christian school teacher."
Paperback. 8.25 x 5.25. 219 pages.
(Original Teaching Tips articles by Doris Peppard are online in The Projector periodical here and date back to 1977.)
---
We Also Recommend