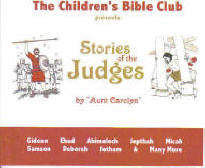 Stories of the Judges
"Aunt Carolyn's" STORIES OF THE JUDGES ALBUM:
The exciting intrigue of Israel's Judges - Musical Background - This set of 16 stories is an in-depth account of the faith, victories, and tragedies in the lives of Israel's judges. "Aunt Carolyn" skillfully weaves the thrust of each story into a moving, up to date challenge. Vinyl, dust-proof 4-disc album.
Contents:
Disc 1:God's Left Handed Judge, The Woman Judge, Gideon's Call, Gideon's Chosen Few
Disc 2: Gideon's Conquest, Fence Straddler's Folly, Parable of the Trees, Abimelech's Payday, Jephthah's Vow
Disc 3: Samson's Roots, Samson's Riddle, Samson's Revenge, Samson's Ruin
Disc 4: Micah's Mama, Micha's Mistakes, Israel's Disgrace
---
We Also Recommend