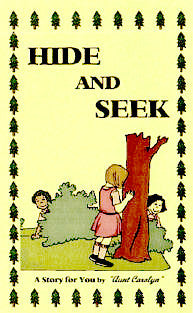 Hide and Seek
In this children's tract, the story of Benny is paralleled to the truth of the coming of our Lord Jesus Christ. One day, Christ will return in the rapture, and His coming will be sudden. Like Trisha's countdown, God has warned us of Christ's return. Therefore it is important that we not delay accepting Christ as our Savior. This tract presents a clear Gospel message and stresses the urgency of salvation.
"Behold, now is the day of salvation." -II Cor. 6:2
"As Trisha hid her face and began counting, the children scattered to find a hiding place. Benny darted under the berry bush, but it was too prickly. He ran behind the rose trellis, but it was too near home base. Where could he hide? It didn't matter, he thought. He could beat Trisha and be home 'Free' from any spot in the yard. Just as he was ready to duck behind the woodpile, Trisha called, 'Forty-nine, fifty! Ready or not, here I come!'"
Because Benny took his time finding a hiding spot, Trisha saw him, and he lost the game of hide and seek. Benny had plenty of time to find a hiding spot, but he neglected to see the urgency of the moment.
For smaller orders or a free sample tract, please contact us by phone or email.
---
We Also Recommend