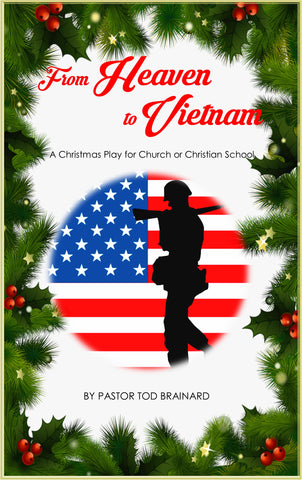 From Heaven to Vietnam: A Christmas Play
 A Christmas play in four scenes for church or Christian school.
Written by Pastor Tod Brainard.
Published by The Children's Bible Club.
From Heaven to Vietnam is a story related by Lance Corporal Paul Scimone (Pronounced Shi-moan), H & S Company, 3rd Medical Battalion, stationed at Phu Bai, Vietnam.
Setting: Christmas Eve, 1967.  A young Marine, wounded in combat, is faced with the truth of heaven versus hell. His mother's promise to pray every day and the clear Gospel message from a kind military chaplain convict the young man's heart, unsure of his place in eternity. He returns home to give his mother a wonderful Christmas surprise.  
List of props and characters included as well as photos for reference.
5 main speaking parts, 9 characters total.
Choose A Format:
Stapled Cardstock Booklet 8.5 x 5.5 - Hard copy 
PDF Booklet 8.5 x 5.5 - Delivered by Email
PDF 8.5 x 11 (regular home/office printer)-Delivered by Email
---
We Also Recommend