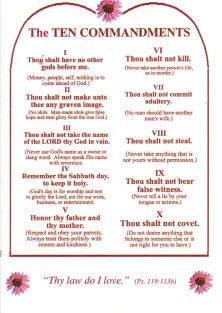 The Ten Commandments
A Story Tract for Children
On the outside, a small table of the Ten Commandments with a simplified explanation in smaller type. Inside, a delightful story "Petals or Precepts" by Aunt Carolyn with a clear Gospel message.
"The Law cannot save us: it only shows us that we are sinners and are unable to please God. That's why Jesus Christ came." "Thy law do I love." Psalm 119:113b
For smaller orders or a free sample tract, please contact us by phone or email.
---
We Also Recommend